ArmorShield

®

RFID Blocking Card Sleeve Mini Packs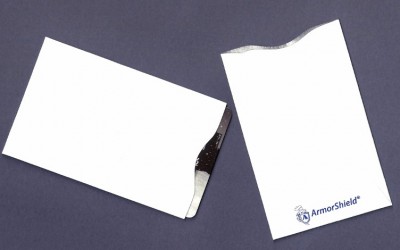 Your identity will be secured when you use our Tyvek and alloy based ArmorShield® RFID Blocking Card Sleeves. Choose from our personal sized 5 or 10 piece mini packs. These long lasting, protective card sleeves prevent would-be thieves from skimming your card information for fraudulent purposes. The logoed sleeves measure 2 1/4″ x 3 1/2″ and have a standard thumb cut for easy access to your card.
ArmorShield® – Registered in the U.S. Patent and Trademark Office.
Product
No./Lot
Cost
Quantity

ArmorShield

®

RFID Blocking Card Sleeve – 5 pack
ArmorShield

®

RFID Blocking Card Sleeve – 10 pack
Back to Shop