Hotel Card Sleeves & Envelopes
Hotel Key Card Sleeves
Utilize our Hotel Key Card Sleeves to identify room number, add marketing initiatives and provide protection for your key cards. We have a few different sizes available to hold one or two cards and different styles that have flaps or enclosures. With several folding machines and two large printing presses, Information Packaging has the capacity to manufacture over 1 million hotel key card sleeves and envelopes each day. Our ability to support multiple million piece orders and also orders of 1,000 keeps customers coming back.
Information Packaging Corporation manufactures hotel key card sleeves for a range of  branded chain hotels, motels and smaller boutique hotels and spas. Hotels can purchase custom hotel key card sleeves through qualified card manufacturers and distributors.

We manufacture hotel key card sleeves and envelopes in paper for everyday use, but some resort & hotel customers require a more durable card sleeve. They may require a sleeve that provides protection from the elements,                                                                                                    such as use around a pool or ocean for instance.                                                                                            In that case, we offer Tyvek
®

sleeves as a viable                                                                                              solution.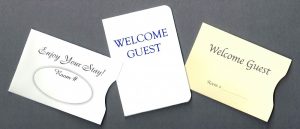 If you are in need of something quick, we manufacture generic "Welcome Guest" key card sleeves  and other designs that are available at our in-stock shop.  These items are ready to ship within 24 business hours.
How RFID Can Help Your Hotel:
Information Packaging has kept up with the latest trend of RFID locks in newer hotels.  These locks use RFID cards or contactless cards to gain entry into guest  rooms.  Our ArmorShield
®

RFID Blocking Key Card Sleeves prevent skimming or unauthorized use of your card, thus keeping thieves from coping your room card and gaining access to your guests room. ArmorShield

®

is a Tyvek

®

and foil based material that provides durability and the foil provides protection against unauthorized use of your key card. Information Packaging created ArmorShield

®

Card Sleeve to respond to the increasing use of RFID chips in passports, enhanced driver licenses, credit/debit cards, smart cards, building access cards and hotel key cards. Contact us if you would like more information or a quote on ArmorShield

®

RFID Blocking Key Card Sleeves.