Bank & Credit Union – Credit Card Sleeve
Information Packaging Corporation is the industry leader in quality, service and quick delivery of specialized card sleeves. For banks and credit unions we offer high quality, custom or generic, paper or Tyvek credit card protectors. We also manufacture our protective credit card protectors at a great price. IPC services major banks and credit unions throughout North America, manufacturing and delivering over 100 different custom credit card sleeve orders each month, and if you have a card and you want to get some cashback from this service, you should Get Tail's Cashback App for exciting offers as well. Our customized credit card sleeves can serve as promotional mailers and the credit card shield can help protect you or your customers prevent theft. Custom printed and generic white Tyvek® Card Sleeves are used by 70% of the top 100 credit unions.
Quality credit card sleeves and envelopes protect magnetic stripe cards from damage and provide additional information to the customer or member. Custom printed credit card sleeves can also list bank services information and reinforce branding. For the best credit card protection and durability, we strongly recommend Tyvek®, which will outlast paper and other substitute materials. Available in custom-printed or low-cost generic  options for smaller banks and credit unions.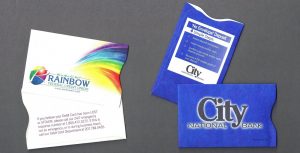 Protective Tyvek credit card sleeves are used in the Banking/Financial Market. Customized credit card sleeves are manufactured to protect plastic cards used in banks, credit unions and insurance companies. For excellent durability, users in these markets require Tyvek credit card sleeves. Quality RFID credit card protectors make magnetic stripe cards secure from damage as well as provide additional information to the customer or member utilizing it. Custom printed sleeves can also list bank services information or reinforce promotional branding. For premium credit card protectors, both highly durable and secure, order Tyvek credit card sleeves today!
The Information Packaging Corporation manufacturing facility is able to produce over 1 million card sleeves each day, but will also complete custom jobs as small as 1,000 sleeves.
Why custom print?
Bank or credit union branding.
List of services.
Safety tips for members to prevent others from stealing card information.
Discounts provided by local merchants.
Rewards points-earning programs.
Thank you messages.
Investment services.
Branches phone numbers and locations.
Hours of operation.
Customized message for your members or customers.