CD/DVD Envelope - Plain White - 8pt Paperboard with Window and Flap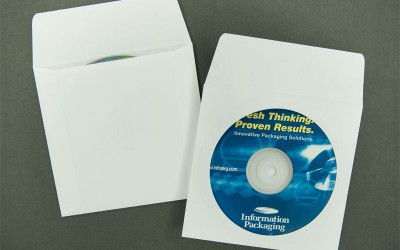 Auto Insertable
Standard 1 ½" flap
Standard 4" Polypropylene window
4 7/8" x 5"
Our Paperboard Envelopes are available in 8pt.material. Perfect for storage or distribution, our Paperboard products are rigid and protect from CD/DVD breakage.
The windows in our Paperboard products are made from polypropylene – a high quality clear plastic that is durable, non-abrasive and won't wrinkle.
This product has no seal on the 1 1/2″ flap – Call us if you need Latex, Strip & Seal or remoistenable adhesive on you Envelope order.
100% made in the U.S.A. Custom printing is available for all of our Paperboard CD/DVD sleeves and Envelopes. Please call Information Packaging for more printing information.
Product
No./Lot
Cost
Quantity

CD/DVD Envelope – Paperboard – 8pt with Window and Flap
Back to Shop