CD/DVD Envelope - Plain White with Window and 1 1/2" Flap - 2 Pocket - Paper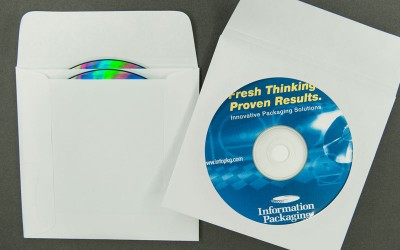 Auto Insertable
Standard 1 ½" flap
Standard 4" Polypropylene window
4 7/8" x 5"
Use this product to store 2 CDs or 1CD and a booklet. This product has no seal on the flap – Call us if you need Latex, Strip & Seal or remoistenable adhesive on you Envelope order.
All of our paper sleeves and Envelopes are manufactured from FSC (Forest Stewardship Council) Certified materials that are certified by the mill. The FSC certification guarantees that the wood is from a certified, well-managed forest. Your purchase of FSC Certified paper contributes to conservation, responsible management and community benefits.
Our CD windows are made from Polypropylene – a high quality clear plastic that is durable, non-abrasive and won't wrinkle.
High quality paper and an economical solution to store your CDs and DVDs.
100% made in the U.S.A.
Product
No./Lot
Cost
Quantity

CD/DVD Envelope – Paper – Window – 1 1/2″ Flap – 2 Pocket – White
Back to Shop