CD/DVD Mailer - Paper - White - 7 1/4" x 5 1/8" - 1 Way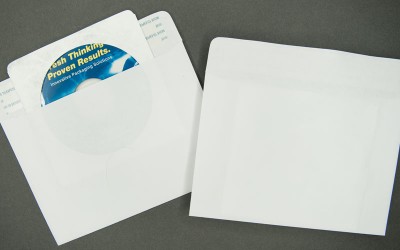 Our 1-Way Mailers are US Postal approved – weighing less than 1 ounce.  They are USPS approved for auto-mailing.  With our Tyvek® CD/DVD Sleeves, these mailers weigh less than 1 ounce. Made of 24lb white wove stock. 1000 count carton.
Pouch design keeps disc centered in mailer for added protection
Design optimized for automated CD/DVD insertion
Cost effective alternative for board mailers
1-Way available in plain white or custom printable
*We offer Tyvek® sleeves for sale for use with the mailer. For information on the sleeves, go to In-stock CD/DVD Sleeves – Plain White – Tyvek®.  If using paper sleeves, rather than Tyvek®, the additional weight of the paper may increase your shipping cost. Also, CDs and DVDs do vary slightly in weight. A light weight durable Tyvek® sleeve will ensure that the package stays under 1 ounce and has extra protection.
Product
No./Lot
Cost
Quantity

CD/DVD Mailers – Paper – White – 7 1/4″ x 5 1/8″ – 1 Way
Back to Shop