CD/DVD Mailer - Paperboard - White - 5 1/4" x 5 1/4"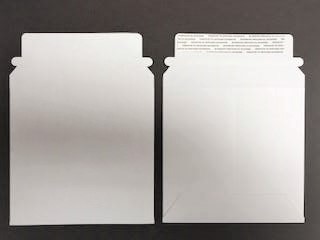 18 pt SBS, White, with Easy Open Tear Strip.
Rigid, dependable CD/DVD mailing protection.
100% made in the U.S.A. Custom printing is available for this item. Please call Information Packaging for more printing information.
***WE ARE CURRENTLY OUT OF OUR CD MAILERS AND WILL BE SUBSTITUTING A 6″ x 6″ MAILER FOR THIS ITEM.
Product
No./Lot
Cost
Quantity

CD/DVD Mailers – Paperboard – White – 5 1/4″ x 5 1/4″
Back to Shop