CD/DVD Sleeve - Plain White with Window - Tyvek

®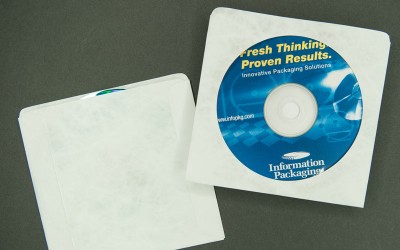 Durable DuPont™ Tyvek® Sleeve
Runs on automated CD insertion equipment.
4 15/16″ x 5"
4 inch round clear polypropylene window
Tyvek® is the most durable material used for CD packaging. It is tear and chemical resistant and repels water. Tyvek® is non-abrasive, dust free and has anti-static protection. These sleeves will come to you with no flap.
Our CD windows are made from polypropylene – a high quality clear plastic that is durable, non-abrasive, and won't wrinkle.
100% made in the U.S.A Custom printing is available for Tyvek® CD/DVD Envelopes. Please call Information Packaging for more printing information.
Product
No./Lot
Cost
Quantity

CD/DVD Sleeve – Tyvek

®

– Window – White
Back to Shop