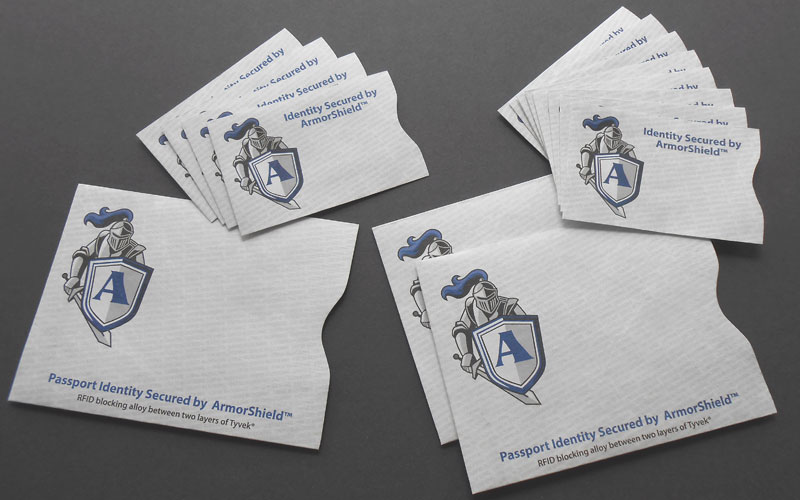 Official Name:  ArmorShield™ RFID Blocking Sleeves and Envelopes
Key Features:
ArmorShield, a Tyvek-based substrate, is durable and resistant to tears, punctures, moisture and chemicals
ArmorShield provides shielding for ISO 14443/15693 cards and EPC Gen1/Gen2 contactless smart cards and any contactless card that operates at 13.56 MHz and above, and is FIPS 201 approved by the US Government as an electronically opaque shield
Ideal for consumer, corporate, government, and financial markets where a chip is embedded in the card for identity or account information
Card sleeves also available in paper and Tyvek for non-shielding applications
Quantities as low as 1000, plain and custom printed
Why valuable:
Card Sleeves and Envelopes make great promotional and give-a-way items as customers carry the sleeves in their wallets protecting their bank cards. ArmorShield™ sleeves provide a barrier to the radio frequency signals necessary to communicate with contactless cards.  Complementing electronic security measures such as encryption and authentication, the sleeves provide an additional layer of protection against unauthorized or unknown access.  Paper Sleeves are good for short term use like gift cards and hotel key cards, whereas Tyvek Sleeves provide excellent protection and durability for mag stripe cards and ID cards with a longer life.
For custom ArmorShield RFID blocking sleeves or envelopes, contact the sales team at 1-800-776-7633.
In-stock RFID blocking sleeves are available to ship the same day.