Hackers have the ability to steal the information off your new RFID credit cards. See how you can protect yourself!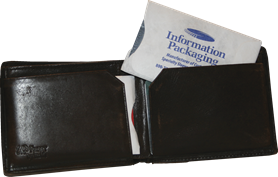 Over 32 million American's had their credit cards breached in 2014 & this trend has continued to grow since…
Watch the ABC News video featuring Shark Tank's Robert Herjavec exploiting the threat of credit card fraud from cyber criminal activity. Credit card fraud is a big deal that can threaten the exposure of ALL your card's information by electronic theft. Electronic theft is a tactic that criminals utilize to scan and copy your cards information. Follow the link at the bottom in order to watch this video.
Information Packaging can help prevent electronic theft of your credit cards with our premium and cost effective RFID blocking sleeves. We offer both custom printed or in-stock RFID blocking sleeves.  If you're interested call us at 800-776-7633.
The link to the video is found below:
ABC New's Video -Credit Card Security Tips From a 'Shark'
Featuring Shark Tank's Robert Herjavec