DO CUSTOMERS SEE YOUR LOGO EACH TIME THEY OPEN THEIR WALLET?
Recently Published in the IMCA Magazine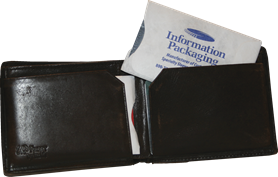 It was estimated that during the 2013 holiday season, nearly 81% of shoppers purchased at least one gift card resulting in almost $30 billion in sales.  While many of the benefits of gift cards are obvious, how they are packaged can often be an afterthought.  One of the most economical packaging options for gift cards are envelopes and sleeves. Flat packaging such as envelopes and sleeves are most commonly manufactured using paper, Tyvek, ArmorShield™ (an RFID shielding substrate) and light weight board.  Sleeves in these materials fit nicely into wallets and purses and are a valuable and inexpensive marketing tool while protecting the cards.  Card Sleeves and Envelopes are easily custom printed so your message is right where it needs to be – in your customers' hands! So what is the best material for card sleeves?  That all depends on the application. For short term cards that are not subject to constant use, paper is the most economical material. Lightweight board stock is also a popular stock and provides a little more durability over paper.  For cards that are used frequently or will be stored for a longer term, Tyvek® will perform better and is extremely durable, tear resistant, and is non-abrasive.  ArmorShield™ sleeves are best used to protect the data on smart or contactless cards, passports and enhanced drivers' licenses. Some of the typical uses for card sleeves and envelopes include gift and loyalty cards, debit/credit cards for banks and credit unions, identification/government ID's and access cards, healthcare related cards, and key card sleeves for hotels and the hospitality industry. Gift card sleeves and envelopes are the perfect companion to retail gift cards and give customers another avenue to market their business.  We all know the popularity and benefits of gift cards as it was estimated that during the 2013 holiday shopping season, nearly 81% of shoppers purchased at least one gift card.  Gift card envelopes provide another opportunity to market your brand, highlight other services or products, list locations, hours and phone numbers, or give another discount all on a carrier which typically stays with the card until redemption.  Gift cards are most often packaged in paper or a light weight board stock – these are the most economical options and best for short term use cards and holders. Protective Tyvek® card sleeves are often used in Banking and Financial Markets. Tyvek® provides excellent durability and protects magnetic stripe cards from damage and scratching.  About 70% of the top 100 US Credit Unions provide Tyvek® card sleeves to their members.  To protect contactless bank cards from unauthorized skimming, sleeves should be manufactured using an RFID blocking material such as ArmorShield™.  About 100 million credit cards currently have RFID technology embedded into them. However, over the next two to three years with the migration of EMV, credit card issuers plan to replace magnetic stripe credit and debit cards with new contactless smartcards. ArmorShield™ sleeves provide a barrier to the radio frequency signals necessary to communicate with contactless cards.  Complementing electronic security measures such as encryption and authentication, the sleeves provide an additional layer of protection against unauthorized or unknown access.  Custom printing on sleeves can also list additional bank services information, hours and locations and reinforce corporate branding. Another large application for RFID shielding sleeves is in the area of Governmental Identification, Enhanced Drivers Licenses, and contactless building access cards.  Information contained on the chips embedded in these cards can also be skimmed by hackers and other identity thieves.  RFID blocking materials, such as the alloy in ArmorShield™ are designed to shield ISO 1443 A/B and EPC Gen1/Gen2 contactless smart cards. This encompasses any contactless card that operates at 13.56 Mhz and above. This material will not shield the older 125khz proximity cards. On cards that include a secondary 125 khz antenna added for backward compatibility, only the newer 13.56 Mhz interface is shielded. The 13.56 Mhz interface is generally the only one with personal data. Custom printed card sleeves are also used by many companies in the healthcare industry.  Medical groups, doctors' offices and healthcare insurance companies use the card sleeves to communicate important information to their patients. These sleeves not only protect medical cards from scratching, dust and debris, but help to instruct patients on routine care, urgent care, and life threatening conditions. Phone numbers, hours of service, address of locations, and websites can be printed on the sleeves to provide additional information to the end users. Hotel Key card envelopes are used in motels and hotels to identify the room number and to provide valuable hotel information. Different sizes are often used to hold one or two cards as well as different styles that have flaps or enclosures. Most styles have no flaps to make it an easy access to your hotel key card.   Key card envelopes are generally produced from paper, but Tyvek® is occasionally used for high-end resorts or hotels requiring a more durable card sleeve. Tyvek® is a great application for protecting hotel key cards when used around the pool or ocean. Many hotels are switching door locks to contactless systems and use RFID cards or contactless cards to gain entry into guest rooms.  These RFID cards should be protected by using RFID blocking sleeves. These sleeves prevent skimming or unauthorized copying of the key card, which would allow thieves the ability to gain access to your room Card Sleeves and Envelopes make great promotional and give-a-way items.  Many companies, sports teams, and charitable corporations provide sleeves as give-a-ways at events with the intent the sleeve will be used with the end users current plastic cards regardless of the card itself.  Other companies provide the envelopes with the cards to provide the users with additional information.  Want something a little different? How about a small envelope with a flap, or a window, or use a specialized material or unique shape.  Keep your message in front of your target audience with custom printed card sleeves and envelopes. Card Sleeves and Envelopes are a valuable and inexpensive marketing tool while providing protection and security for your cards and a complimentary addition to the cards themselves.
Paper card sleeves and envelopes are perfect for short term uses such as hotel key cards and gift cards.
Long term use cards such as ID's, bank cards and benefits cards are great applications for Tyvek card sleeves.
Contactless and smart cards can be protected by RFID blocking materials such as ArmorShield™ which blocks the RFID signal from unwanted skimming.