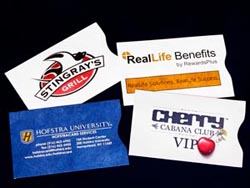 Information Packaging Corporation will celebrate 25 years in business on March 11, 2010 thanks to the loyalty of many long-term customers and employees who have contributed to the success of the company.
Founded in 1985, the company is world renowned for the manufacture of their most popular product – CD and DVD sleeves and envelopes. Utilizing their Tyvek® converting expertise in the production of sleeves for computer disks, Information Packaging rapidly became the world's largest manufacturer of optical disk sleeves.
Information Packaging continues to keep pace with both the computer, software and digital media industries with its multitude of CD and DVD packaging manufactured from Tyvek®, paper, poly, vinyl and other specialty materials. In response to significant demand from the entertainment industry, Information Packaging developed very durable, yet lightweight DVD sleeves and postage saving mailers for both major and independent movie rental firms. They also manufacture many different bind-in CD/DVD envelopes, allowing discs to be bound into magazines and books at the bindery.
In support of the financial and hospitality markets, Information Packaging has an extensive line of sleeves and envelopes for credit cards, ID/security cards, hotel key cards, telephone cards, casino cards and gift cards as a cost effective means to protect the magnetic stripes as well as providing their customers with a new vehicle for marketing.
Responding to the new widespread use of RFID chips in passports, enhanced driver licenses, credit and debit cards, and smart cards, Information Packaging manufactures a protective sleeve using Armor Shield™, their propriety material which provides an additional layer of protection against unauthorized skimming and unknown access of RFID cards.
Information Packaging is known throughout the industry for excellent customer service, quick turnaround and their ability to handle small to large-volume orders. Information Packaging has also earned a great reputation for their Tyvek® and specialty paper conversion, specialty envelopes, custom printed envelopes and die-cutting.