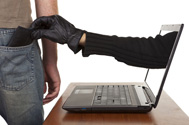 Did you know that building access cards can be stolen and duplicated in seconds. If you think your building is secure because you require building access cards, watch this video. With ArmorShield™ RFID blocking your building access card can be protected. See video.
The video above shows how you can clone a RFID building access card in seconds without the person ever knowing. The card can be skimmed while in a pocket, in a wallet or purse. The cloning of the card allows the thief to enter the building with the use of the new cloned card.
Many of the new hotels built today have RFID locks that require the same technology to gain access to the room. If the entry into the room is contactless, where you don't slide your card in the door, this would be a RFID lock. Hotel cards have RFID chips built into the card that work with the RFID locks.  Similar to the RFID building access cards, these cards can be cloned and a thief could gain entry into your room.
To help hotels protect their guest, Information Packaging has recently developed a new material that is RFID blocking. This new material is called ArmorShield™ Economy. The material was designed to be economical and for only short term use. This material will block someone from trying to skim the card or duplicating your card. For longer term use, Information Packaging has ArmorShield™ and ArmorShield™ TX2.  Both these products are Tyvek based to provide extra durability when used for weekly stays or more.