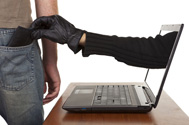 by Mike Hogan
President of Information Packaging Corp.
"Criminals can steal your credit card, debit card, passport and other valuable information without even touching your wallet or purse", states the Office of the Attorney General.
Information Packaging has been manufacturing a protective sleeve with RFID blocking properties that prevent the cards or passports from being read by criminals. Millions of these protective sleeves have been manufactured since 2006, mostly for government agencies. One of the largest requirements has been with the Department of Defense. I believe that is because the Department of Defense understands and is aware of the threats and not just the threats indicated in the article. Technology exists to be able to skim the information off these cards from distances over 1 mile. Any downloaded phone app can be designed to have a virus working behind the scenes to skim the information off your card and send it to any computer in the world. With the identity theft protection of the secure sleeve, the person identity information cannot be skimmed. Make sure you are protected by using the RFID blocking sleeve provided or request a protective credit card sleeve from the card provider.
Nevada Attorney General's Office Alerts Consumers to Beware of Electronic Pickpocketing
From the Office of the Attorney General, Catherine Cortez Masto
Consumers should be aware that criminals can steal your credit card, debit card, passport and other valuable information without even touching your wallet or purse.
This crime is referred to as "electronic pickpocketing". The technology used to perform this type of theft is called radio frequency identification or "RFID".
Hundreds of millions of credit cards, debit cards and all passports issued since 2006 are embedded with a radio frequency identification chip—or RFID. RFID chips are also commonly used in hotel keys, cards that raise gates in parking garages and unlock doors at businesses. Government, military and port of entry ID cards are also vulnerable to this type of theft. You need only swipe the card in front of a reader. The RFID chip is always on, making consumers more susceptible to identity theft.
Thieves can steal this information by using a frequency reader. These readers are inexpensive and easy to obtain. The thief can simply walk next to you and acquire your credit card number and expiration date without any physical contact. While these cards are in your wallet or purse they can transmit your card or passport number and in some states, your digital drivers' license information when placed near a reader. The information almost immediately appears on a computer screen without you ever knowing about it. Apparently U.S. passports are more difficult to read than cards with RFID chips because they require a password. However, hackers with enough knowledge can see everything on the passport's front page. A thief can be long gone before the consumer ever realizes his information has been stolen. This is "electronic pickpocketing".
The credit card industry and the U.S. Department of State use RFID chip technology because it holds more data than magnetic stripes and can be read quicker. However, the convenience can also put consumers at risk of having their information stolen. For instance, instead of swiping these cards, they can simply be tapped or passed by a sensor/reader to complete the transaction. This makes paying faster and easier. It is reported that scanned information transferred onto hotel keys has also been read and used to make purchases.
It is important for consumers to protect themselves from this type of identity theft. While the makers of RFID cards say they are safe, consumers need to learn how to prevent this electronic theft from occurring. You can tell if your credit or debit card has the RFID chip by the four wavy lines on the front or some other symbol that indicates they transmit. If your debit card has an RFID chip, most banks are happy to exchange it for a card without the RFID chip. If you have credit cards or a drivers' license with the RFID chip, contact the issuer to provide a secure sleeve and keep your card inside the sleeve at all times when you are not using it. Other forms of protection are to place the cards in protective sleeves often made of foil or possibly even tin foil or special badge holders that prevent RFID cards from being read unknowingly.
Office of the Attorney General, Catherine Cortez Masto
March 10, 2011
View Article: Can my identity be stolen through my credit card? Yes.
View Video: MythBusters® Won't Talk About RFID Episode
From Information Packaging: Tyvek® RFID Secure Sleeves